Worldwide Express Series
Our courier service (door to door pickup and delivery) is now available in the following provinces/cities/countries: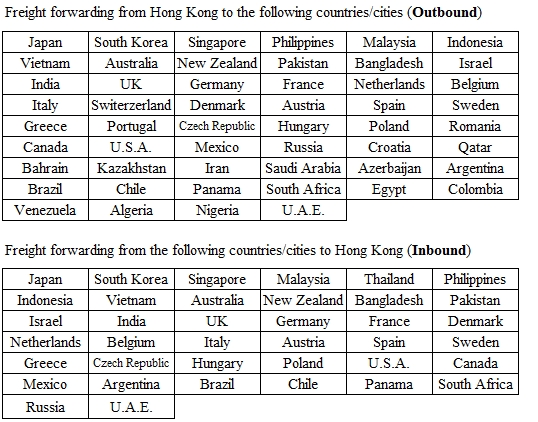 Savings of approximately 85% are possible when using our company over other international logistics companies based in Hong Kong.
Please contact our customer service officers for details. For quotation, please click the Online Quotation.

Important Notes:

Tariff do not include the following surcharge:
The fuel oil surcharge;
The charge of the import/export declaration to Customs & Excise Department of Hong Kong;
The duties and taxes that are levied at the import/export country or city;
Additional special service surcharges (e.g. Dangerous Goods Surcharge);
Insurance against consignment(s) from the third party (it is optional).
Each consignment is charged on per kilo basis according to the price list, any fraction of a kilo will be rounded up to 1 kg.
When the volume of consignment is out of proportion to its weight in kilogram, consignment shall be measured by its volumetric weight:
Length (cm) x Width (cm) x Height (cm) / 5000 = Volumetric weight (kg)
"Worldwide Express Series" - Payments need to be settled by Hong Kong's client.
The company reserves the right to amend the quotation and shipment rate due to the change in cost. All prices will be confirmed by the company at the final quotation.